The glorious vibe of a black frameless shower screen
---
Behold the beauty of the
black frameless

shower screen

People are focusing on sustainable development goals. They desire to adopt new practices and want to consume and produce responsibly. As a result, many behaviours became a thing of the past. And a countless number of outdated industries and products went into oblivion.

One of the sinking fast commodities is bathtubs, which are being swiftly replaced in Australia and all over the world by more modern alternatives, namely shower screens, including but not limited to,frameless shower screens, semi-frameless shower screens, and framed shower screens.

Apart from saving water consumption and reducing excessive time spent on cleaning, shower screens add much luxury and style to your space, preserve plenty of room in your toilet, and give you stylish storage inspiration to fill your saved space.

Shower screens come manufactured with toughened safety glass compliant with Australian Standards.

You can find those shower screens everywhere in Sydney in various shapes, colours, types, designs, and dimensions.

From a wall-to-wall shower screen, or a fixed panel screen, to a black semi-frameless shower screen, or a semi-frameless shower screen white coloured, you can choose in a blink of an eye your custom-made shower screen from an almost unlimited number of professional suppliers in Australia.

Please note that most shower screen providers in Australia plan out the products they offer. So whether it's about price, quality, or distribution, they provide their clients with what they truly need.

As mentioned above, colours are an essential feature of shower screens. For instance, you can order a matt black framed shower screen in Australia, or a nickel brushed semi-frameless shower screen wall to wall, a black frameless shower screen, among others. Other colours available include the chrome matte and the matte black brushed tone.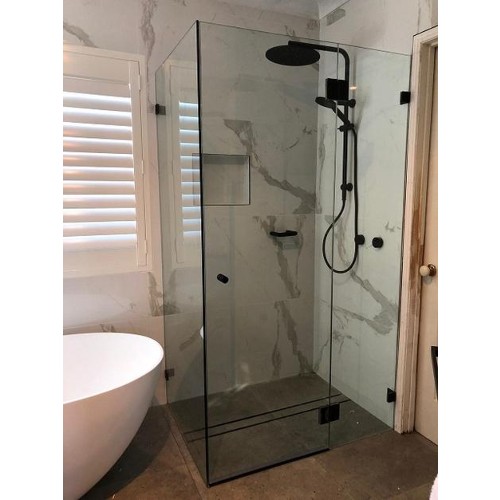 ---
Nothing beats the
stylish black frameless

shower screen

Although each type of shower screen is unique and exclusive in its features, however, in our own opinion, nothing beats the majestic vibe of a black frameless shower screen.

Most modern architects and dernier cri designers prefer the frameless screen because it gives your bathroom a spacious and luxurious look.

We recommend you adopt the 10mm glass for your screen because this type of toughened glass is easy to clean and ensures maximum strength and durability for your screen.

The pivot door is a better option to choose with the frameless screen than a sliding door because it doesn't need much maintenance, and it's easy to mount it without the need for sophisticated hardware.

If your bathroom is small, we urge you to adopt a pivot door for your frameless shower screen. Opt for the stainless steel handle for your door; it's of high quality, sustains corrosion, and you can use it to hang your clothes and towels.

Colours have a remarkable influence on your shower design. The chrome matte semi-frameless shower screen-Bunnings and black framed shower screen-Bunnings are one living example of this influence.

For us, nothing rises above the classy style that a black frameless shower screen offers to your bathroom. Specifically, the matt black colour is chic and the way to go for a successful bathroom remodelling.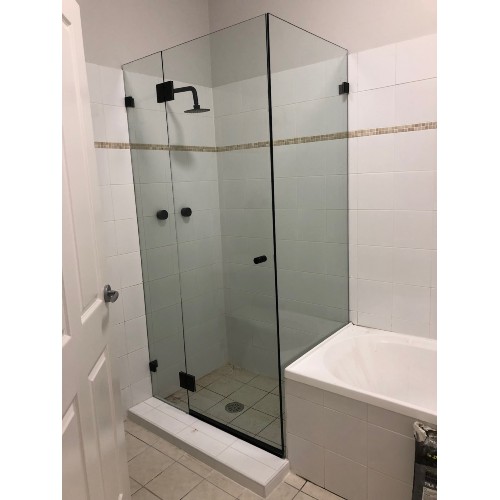 ---
What is a
semi-frameless

shower screen?

Some people prefer a semi-frameless shower screen. We mount those screens with a thin Aluminium border.

Moreover, semi-frameless shower screens are cheaper than frameless screens and use a 6mm toughened safety glass.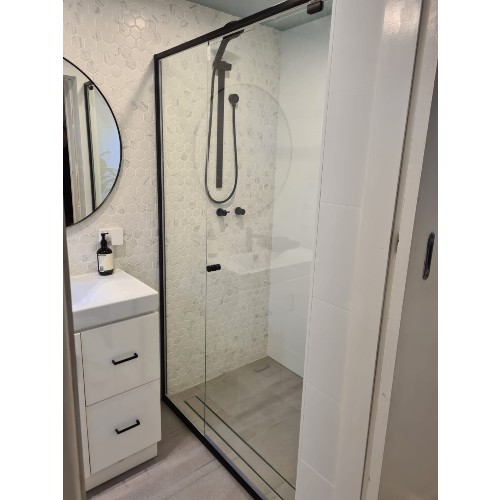 ---
Semi-frameless with a
black frame

shower screen

You can find here an elegant matt black semi-frameless wall to wall shower screen offered by Showerland, with a 6mm toughened safety glass, a standard height of 1950mm and a custom-made width which you can choose depending on the measurements of your bathroom. For more insight, see below a picture of a black frame shower screen Bunnings.

Semi-frameless shower screens cost anywhere between AUD 660 and AUD 1,100 with taxes, installation, and measurement costs included, and you can hire a trailer vehicle to transport your screen to your home. However, note that this option will influence the price.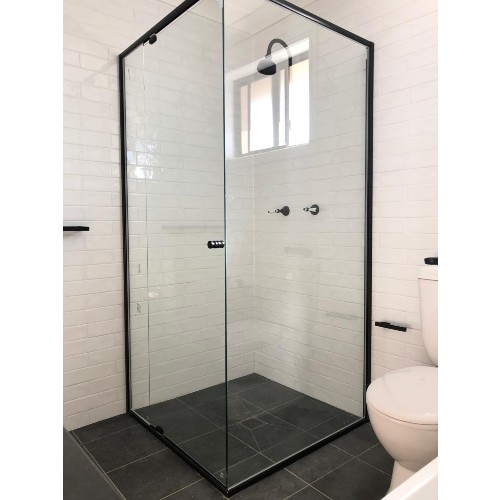 ---
Frameless shower screens:
Specifications

, price, and safety

Frameless shower screens have no frame surrounding them, have a standard 10mm toughened safety glass, are easier to clean than semi-frameless shower screens, and grant the ambience a cleaner feel.

Check the picture below to see a wall-to-wall frameless shower screen that comes with two fixed panels with the option to increase them to three, has a 10mm toughened safety glass, with chrome matte, matt black, and nickel brushed colours available, and widths between 600mm and 1400mm depending on the space between the walls of your bathroom.

The 10mm glass thickness adopted for frameless shower screens vs. 6mm standard thickness for semi-frameless screens and the drastically high labour costs in Sydney are the main reasons for the higher price of frameless shower screens.

Nothing beats the safety of frameless shower screens since they comply with safety Australian Standards, are strong, durable, and sturdy.

Nonetheless, opt for the wall to wall semi-frameless shower screen instead of the frameless one if you have small kids at home because scratches that may fall on your body from the hinges that hold the shattered glass poses a great danger for your children, and heavy particles of broken glass injure and hurt the skin.

Frameless shower screens cost between AUD 1,100 and AUD 2,200, depending on quality, shape, size, glass thickness, and other features; for instance, the thicker the glass, the higher the price.

The 2-panel wall to wall black frameless shower screen with 10mm toughened safety glass offered for AUD 545 from Showerland in Sydney is available with adjustable widths from 600 mm to 1400mm, a standard height of 1950 mm, and manufactured according to strict Australian Standards.

If you decide to go with our advice and install a black frameless shower screen, we recommend that you add Smart lighting power to your bathroom for a luxe atmosphere.

The black frame colour intersects with the lighting, and with the frameless glass adding a luxurious style to your shower and a peaceful mood to your ambience.

You are aware by now of the importance of renovating your bathroom, ditching the old bathtub, and installing a brand-new matt black frameless shower screen that will turn your space into a 5-star state-of-the-art design.

No more waiting because we have provided you with all the needed tools, tricks, and ways to get what you are looking for, and now is the time for you to take real action.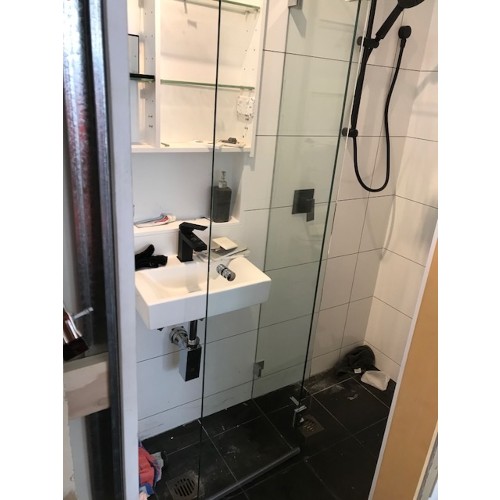 ---