Secrets About shower screens and How To Choose The Best
Everything you need to know from prices to designs before you order one.
Glass screens can add a touch of elegance to any bathroom. Not to mention, they can take the functionality of your bathroom to a whole new level too.
Whether you are looking for ways to give your bathroom a more modern and streamlined look, or just trying to prevent water from the shower head from splashing everywhere, installing a screen might be just what you need.
Read on to learn more about its installation in Sydney and how to choose the best one for your bathroom.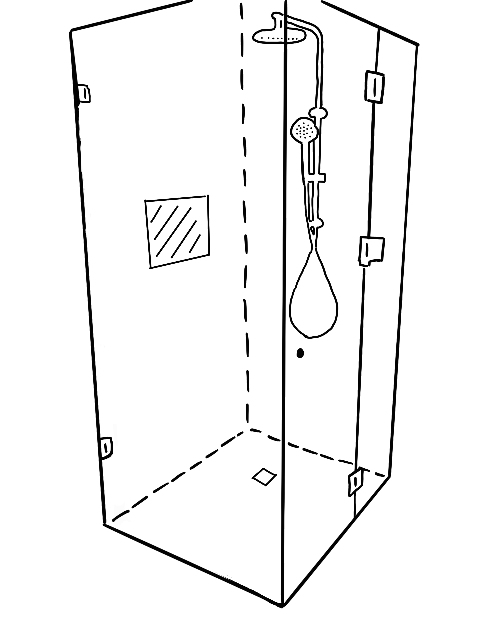 ---
FREQUENTLY ASKED QUESTIONS
The primary purpose of these glass panels is to act as a barrier between your bath shower and the rest of the bathroom space. But, they are a lot more than just a fancy replacement for traditional shower curtains. They offer numerous benefits, as you can see below.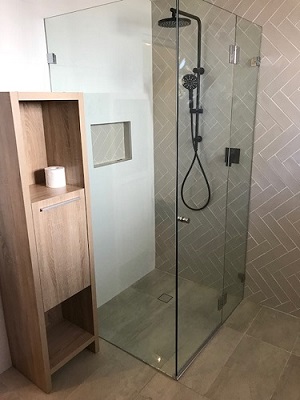 The main reasons why the trend of installing them in Sydney bathrooms is continually on the rise include:
Easier to clean than a shower curtain – They are fairly low maintenance. Since glass doesn't stain, wiping the panel with a glass cleaner or even just a clean cloth would do the trick.
More hygienic – Unlike regular curtains, They aren't prone to retaining moisture, dirt, dust, or bacteria.
Provides a brighter, more open look – Whether they are made of fully transparent or frosted glass, they hardly inhibit any natural light flowing through the bathroom. This not only makes the bathroom look brighter but also creates the illusion of space. Your bathroom will look bigger than it actually is.
Comes in a wide range of choices – They can be made from fully framed, semi-framed, and frameless glass panels. They are available in a variety of shapes and sizes with different glass types and frame colours. You can buy a prefab screen or order a completely customized one as well.
Adds a sophisticated and streamlined look – No matter what style you go for, it offers plenty of visual appeal. It gives your bathroom a sleek and refined finish and can make even the smallest of bathspace look a bit more luxurious.
It can be as high as you want it to be. However, as professional cubicle installers in Sydney, we suggest keeping it no higher than 2200mm as water is unlikely to spray over this height.
The shower door should generally be of the same height as the surrounding glass panels. The width usually varies, according to the type, but typically ranges between 660mm and 1800mm.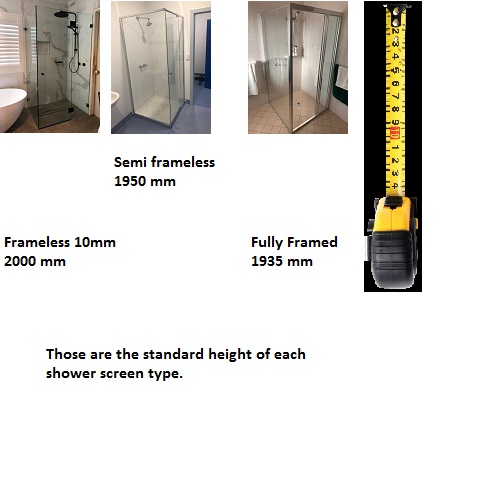 Broadly speaking, a shower screen installation involves the following steps:
Marking the wall channel (the piece that will hold the panel in place)
Drilling the holes
Securing the channel to the wall
Fitting the glass panel into the wall channel
Sealing the edges to prevent water from escaping the bath area
Remember, unless you are completely confident in your DIY skills, it's best to leave this job to the professionals.
If the glass is coated, wiping it down with a dry cloth after showering is usually sufficient for keeping the screen shining like new.
Many homeowners struggling with mineral deposits and water stains on their screens recommend using natural cleaners, such as vinegar and bicarbonate of soda. It can help you get rid of limescale and soap scum.
However, it's better to stick with glass cleaners, especially made for this purpose. They won't scratch the surface and will keep the screen sparkling clean and the shower smelling fresh.
They are generally safe as long they are purchased from a reliable dealer or manufacturer. When buying shower screens in Sydney, always go for the high-quality ones that are made from laminated or toughened glass. They both are a type of safety glass that is especially processed to withstand most impacts.
Given that they are properly installed, any type of shower screen will give you a safe and functional shower enclosure.
However, if you are comparing your options in terms of their strength or the amount of force that the glass can bear without breaking, semi-framed shower screens usually outperform their frameless counterparts.
So, if you have children or want handles for support on your glass panel, consider going for semi-framed or framed shower screens.
To remove your old semi-framed shower, you need to first examine carefully how it's fastened to the walls. Identify all the joints (at the top of the frame, near the bottom, and to the crosspiece/ bracing bar, etc.). Next, remove the enclosure door by lifting it slightly and then sliding it outwards. You may need someone to help you hold the glass steadily.
Once the door has been removed, unscrew all the fasteners and remove each panel one by one.
If you contact Showerland for installing your new shower door, you need not worry about removing the old one because we will handle it for you.
Here is a complete list of all the different types of shower cubicles available at Showerland:
If you have any more questions about the installation in Sydney, get in touch with us now!
At Showerland, we have a team of dedicated professionals who can visit your place for a free estimate quote. We supply a wide variety of shower screens, both online and in-store and can deliver and install your preferred shower enclosure within two weeks max!
Contact us here.
We can provide you with a highly recommend service you can trust to do a job well done. We supply and fit shower enclosure in Sydney. Whether you want us to supply and install a fully framed, semi-frameless screen, or frameless shower screen know that we are the right company for both.
With years of experience designing reliable and durable shower enclosure of all types from sliding door to pivot door. Also, you can choose from many shapes for example corner to diamond shower, with any sort of glass to choose from safety glass or toughened glass, you do not have to worry about a thing. We offer you affordable and economical shower cubicle in Sydney that will enhance the appearance of your bathroom by their high-quality level, making it go from existing shower to elegant and classy in no time.
On top of that, we offer you a two-in-one service — we provide you with a vast selection of high-quality door panel and a fitting service on top of it.
By choosing us, you make it easier on yourself, as you do not have to hire another company to install the shower door once you order it.
By opting for our two-in-one solution, you cut down on the hassle of going to two separate companies, and you reduce your shower door cost.
Free measure and quote
Shower door supply and installation service
Top quality and affordable products, advanced and attractive designs, and economical fitting service
Professional team dedicated to helping you find shower doors that match your requirements and install them in your property
Have the ability and skill to work with all types of shower enclosure, installing them in all types of properties
---